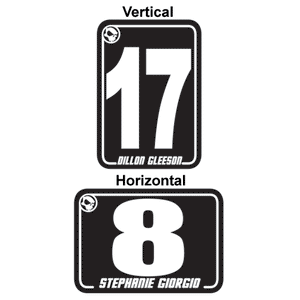 DFR Number Plate Background "Classic" Grabbar / Bumper 6.75" x 9.75" (Sold In Quantities of Two)
DFR Classic number plate backgrounds.(Sold In Quantities of Two) Fits the standard AC grabbar plate. Made of a Super thick super durable laminate with ultra tacky adhesive. Specifically shaped and designed for your ATV.

A proof of your order will be sent via email for approval before printing.
-customized number plates normally ship in 7-12 business days

Don't see exactly what your looking for give us a call 1-888-777-8068.