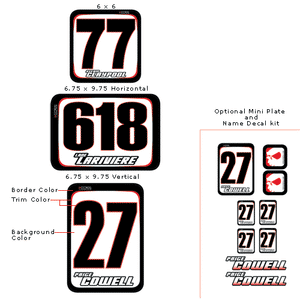 DFR Number Plate Background "Team" Grabbar & Bumper Plates (Sold In Quantities of Two)
DFR Team number plate backgrounds for standard AC / Maier number plates and Rath Bumpers. (Sold In Quantities of Two) Made of a Super thick super durable laminate with ultra tacky adhesive. Specifically shaped and designed for your ATV.

When choosing your color options keep in mind that the number color is outlined by the trim color and the name color is outlined by the border color.

Optional Mini plates and Name Kit includes: one 5" mini plate, four 2" mini plates, two DFR decals, and two name decals

A proof of your order will be sent via email for approval before printing.

-customized number plates normally ship in 7-12 business days

Don't see exactly what your looking for give us a call 1-888-777-8068.